Did you catch Sunday night's latest True Blood episode? Yowzer, the ending was a doozy. Right?
You know, I was more than just a little disappointed when the Russell Edgington character was buried in cement in Season three. While all kinds of vile and crazy, how could you not enjoy him on screen? He is practically gleeful, delivering even the most absurd lines in that wonderful, faux-harmless southern twang. Remember threatening to eat your kids while delivering the news? "You are not our equals. We will eat you after we eat your children. Now time for the weather. Tiffany?"
(Warning, not appropriate for work or children or weak constitutions)

Other than the backside of a certain Nordic vampire, Russell was my favorite part of True Blood. And now he's back! And in true Russell form. No holds barred. Still mostly unhinged and eccentric as ever.
I'm actually looking forward to next week's episode. What will Russell do? What will Russell say? How much fake blood can appear on the screen at one time? LOL
By the way, did you know you can actually order Russell's news quote as a Tshirt? Yup.
And, a Trubie mug I've featured on this blog before, but is still fabulous from Maid of Clay: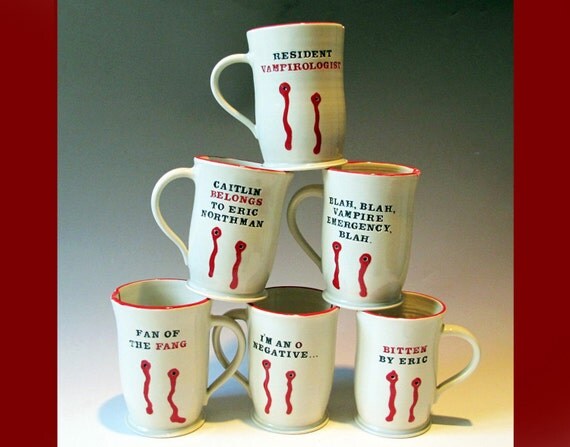 So, did you watch?
What did you think?
And more importantly, will Steve Newlin replace Talbot?
Hmmmmmmmm
Happy Tuesday ya'll,